Regular price
$215.00 USD
Regular price
Sale price
$215.00 USD
Unit price
per
Sale
Sold out
The Nearly Me Lites #785 Tapered Triangle Breast Form gives the look and feel of a larger, more mature draping breast but is 25% lighter in weight than a standard silicone form. Features a thin, highly resilient matte outer film for a more natural look and feel. The breast form has a symmetrical shape to fit both sides of the body.  Designed with a broad triangle base with a short tapered upper wing. The curved back hugs the chest wall. IF YOU HAVE WORN A FORM BEFORE, PLEASE LET US KNOW WHAT MANUFACTURER AND SIZE.
Available Colors: Beige or Soft Sable
2 Year Manufacturer's Warranty — MADE IN USA
#785 Lightweight Tapered Triangle Silicone Mastectomy Breast Form

Soft matte finish on the outer film and ultra-soft feel

Semi-full profile with nipple and curved to fit the chest

Symmetrical, fits R or L

Each form is packaged in a convenience storage case

Made in the U.S.A.
How to Measure

How to Measure

Select the proper shape and size of the remaining breast. Consider the best style bra that fits your natural breast.

Take a soft tape measure and measure around the body where your bra band fits(with a bra on). Pull the tape snug but not tight.This will give you your band size. Make sure the tape is even all around your body.Next, measure from the center of the chest wall on top of existing breast to the center of the back. Double that measurement and that should give you an approximate measurement of how to figure the cup size. Uneven numbers-round off to next whole number. Subtract the band size from the measurement of the cup size . Each 1″ difference is a cup size. (band size 34″,cup measurement, 36″–should be 34 B)

Fitting A Prosthesis | Prosthesis Shapes:

Triangular-Symmetrical
Triangular shaped forms can be worn on either the left or the right side of the body. These are suitable for younger women with firmer pectoral muscles. These shapes are designed to suit most contemporary surgical techniques, where less breast tissue is removed.

Teardrop-Symmetrical
Suitable for women whose surgeries remove some underarm or Clavicle tissue. The teardrop form has an extension which can be angled for best fit. Can be worn on the left or right side of the body.

Heart Shaped-Symmetrical
An extremely versatile shape which fills the bra cup without unnecessary bulk when no auxiliary tissue has been removed in surgery. Suitable for younger women with firmer pectoral muscles.

Asymmetrical
Asymmetrical shapes provide a range of cup projection and profile in the bra from shallow to full, depending on the extent of the surgery. Underarm extensions fill and blend where surgery has removed tissue.

Need Assistance?

If you need help deciding which products best suit your needs, Nearlyou offers personalized shopping assistance. Just email us Nearlyoucs@gmail.com to submit your question and our staff will be pleased to assist you.
Shipping

Shipping is FREE within the USA on order over $250

Delivery
Please allow 7 – 10 days for the delivery of your order. We normally ship by United Parcel Service, Federal Express, or USPS Priority Mail.

Overnight shipping is available Monday – Thursday on Nearly Me, Amoena, TruLife, and Transforms products.

There is a $50 charge per manufacturer for overnight shipping.

 

We ship UPS, USPS and FedEx.  depending on the cost of shipping 

Nearly Me forms and some of our accessory items are "made to order" and will usually ship within 5-7 business days once the order is entered into our system. 

The bras will ship the next day, but could possibly ship the same day, depending on the time we receive the order (before 12 noon, the bra could ship the same day). 
Returns

We hope you are extremely pleased with your purchase from Nearlyou.com, but if you need to return an item, please respect the following guidelines.

All returned products MUST be unworn and unused and in a re-sellable condition with their original packaging.

If any product is deemed unacceptable by the receiving agent at Amoena, TruLife, or NearlyMe, the return cannot be accepted you will not receive a refund.

If you need a different size or item, you may return your order with a return number and place another order online or by phone for the new item. This will expedite you're getting the correct item.

Returns must be made within 30 days of receipt of the item, and the item may be subject to a 10% restocking fee.

All sales of intimates are final: panties, all swimwear

All Transform products are final

They will not be accepted without a return authorization number that has been issued by Nearlyou.com.

Please email us at  Nearlyoucs@gmail.com to receive your authorization number. Again, please include your name, order number, and date in the email.

Returned items must be in the original carton and in new condition.

Please include all accessories and paperwork. A 10% charge will be deducted for handling.

There is no refund on shipping

How to Return an Order?

STEP 1: Please email us your order # and the reason for returning

STEP 2: We will issue a Return # sent to us by the manufacturer and the return address of the manufacturer.

STEP 3: Please package the products in their original condition with all of their paperwork and original packaging and place them in a box. Products must be unused.

Add the Return # on the outside of the box and mail it back.

STEP 4: Email us the tracking # of this shipment.

STEP 5: We will check with the manufacturer and await their approval for the refund.

STEP 6: After the manufacturer has approved the return, we will issue a refund of 90% of your purchase price of the product.

Please understand the reason we have to charge a restocking fee is that we are charged a restocking fee by the manufacturer for your return of goods purchased.

 
Nearlyou Gurantee

Our Mastectomy products are warranted by the manufacturer. You may return your order. Please email me at  Nearlyoucs@gmail.com for a return number. We will try to refund your credit card as soon as the returned merchandise is approved by the manufacturer.

We do not refund what it cost us to ship the merchandise to you.

If you need a different size or product, just place another order and we will get it to you asap. your merchandise for a different size. All prices are subject to change without notice.

Nearlyou.com will update this website when price changes are affected. We will accept returns and suggest placing new orders to expedite the process.

Returns must be made within 30 days of receipt of the item. Products must be in restockable condition.

The adhesive back of any contact form is not warranted in any way.
Medicare and Private Insurance

Medicare-eligible. "insurance providers may cover the cost of post-operative garments, pocketed bras, and breast prosthesis, also referred to as breast forms . Call your Insurance provider to verify your coverage." although most major medical insurance policies cover mastectomy products within specific guidelines you will need to contact your provider directly.
Many insurance plans will cover one breast prosthesis (breast form) per year and two to four mastectomy bras per year, provided that you submit a prescription from your physician. As many post-surgical camisoles as are medically necessary.

We do not file insurance but provide a receipt that is accepted by most insurance companies. We are not a Medicare provider.
Share
View full details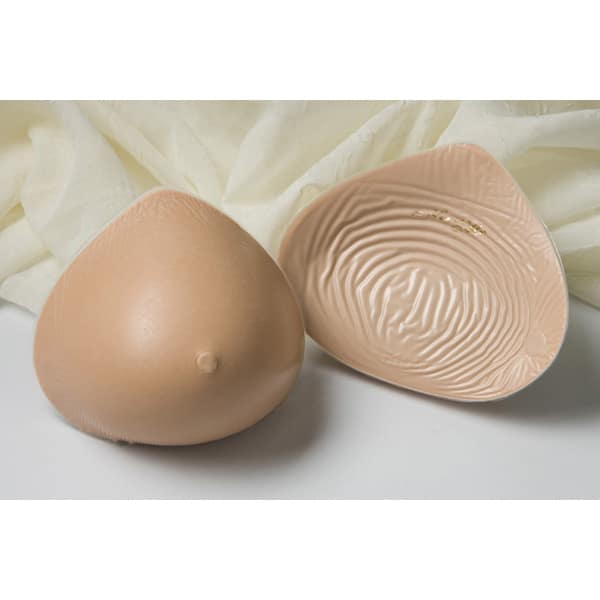 Nearly Me Prosthesis Sizing Guide
How to measure Nearly Me Bras